Amplificatore per cuffia – Astell&Kern ACRO CA1000
Amplificatore portatile per cuffia/riproduttore DAP
Quadruplo convertitore DAC ESS ES9068AS 32bit/384KHz
Riproduzione DSD 512
4 livelli di guadagno con tensione d'uscita fino a 15Vrms per cuffie ad alta impedenza
Fuzione Crossfeed
Uscite cuffia: 1 x 3.5mm jack, 1 x 6.3mm jack, 1 x 2.5mm/4-poli XLR e 1 x 4,4mm/4-poli XLR
Ingressi: 1xRCA, 1xcoassiale, 1xottico, 1xUSB tipo C
Tecnologia Teraton Alpha
Display touchscreen retrattile da 4,1″ con risoluzione 720x1280px
WiFi
Bluetooth 5.0
24bit aptX e LDAC
Memoria interna da 256GB espandibile a 1TB con microSD
Batteria interna da 8400mA con durata di 10,5h
Dimensioni (LxAxP): 105x45x149mm
Peso: 0,9Kg
---
A&norma ACRO CA1000
Powerful Audio Anywhere, CA1000
Introducing the Astell&Kern CA1000 Carryable Headphone Amp.
The ACRO CA1000 is a headphone amplifier that combines the functions and portability of a high-performance amplifier and DAP based on Astell&Kern's fundamental philosophy of delivering original sound.
The ACRO CA1000 sets a new standard for headphone amplifiers, providing powerful and clear sound with the features never available on any other headphone amplifiers.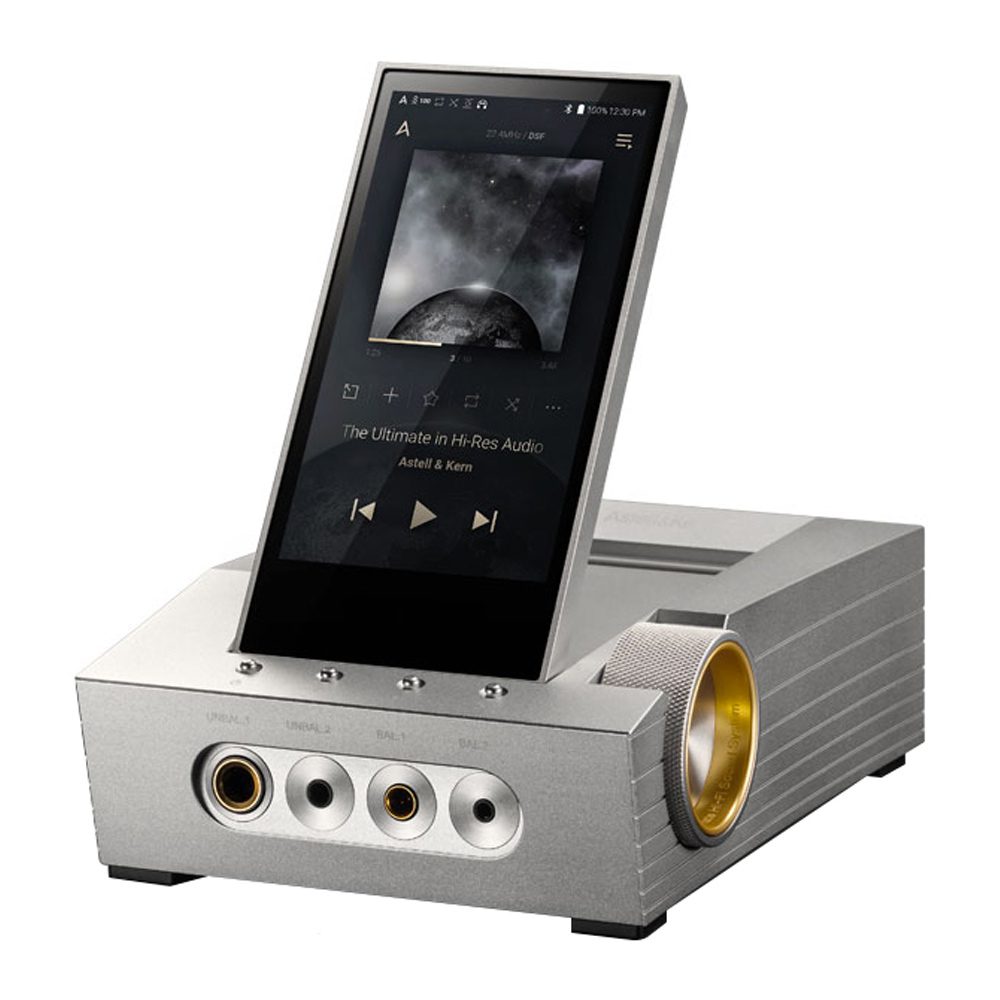 Perfectly drive any headphone/IEM with 4 levels of gain and up to 15Vrms output
Multiple inputs and outputs provide maximum options and compatibility with all of your audio equipment
Equipped with ESS ES9068AS Quad-DAC for detailed and balanced sound
Support for 32bit/384kHz PCM and Native DSD512 playback
Built-in Battery- Portable amplifier can operate without external power supply
TERATON ALPHA, the epitome of Astell&Kern audio technology
Crossfeed support for a more natural acoustic experience with headphones
Support for the latest Bluetooth 5.0 and wireless 24-bit codecs (Qualcomm® aptX™ HD, LDAC)
Dual-Band Wi-Fi support for greater wireless connectivity
ReplayGain that automatically adjusts sound levels across different music tracks
Silver Plating Shield to minimize noise and interference
View you screen anywhere with a display adjustable up to 60 degrees

Supports a wide range of inputs/outputs
ACRO CA1000 features a variety of outputs that can be used by everyone from general users to audiophiles.
3.5mm, 6.35mm Unbalanced, 2.5mm and 4.4mm Balanced output jacks are available to accommodate a variety of headphones/earphones.
The ACRO CA1000 can be used as a Hi-Fi audio system by connecting devices using a variety of digital inputs/output (Optical, Coaxial, Type-C USB) and analog inputs/outputs (RCA).
All Input/output settings can be easily and conveniently selected using the CA1000 touch screen.
*When using with headphones/earphones, there may be a risk of headphone/earphone and hearing damage from high volumes, so set the gain level before use.
*When two or more earphones/headphones are connected to the output terminal, sound is outputted to the earphone/headphone connected last.
Quad-DAC with high output and noise-free sound
The ACRO CA1000 is equipped with four ES9068AS DACs, providing perfect decoding capabilities with Astell&Kern's amplifier circuit technology.
The clear and overwhelming output expresses the original sound without distortion.
2.5mm, 3.5mm, 4.4mm and 6.35mm output circuits are physically separated by applying tiny, independent relay components.
If the signal from each output stage of a high-power headphone amplifier is not blocked properly, this can cause noise interference.
ACRO CA1000 boasts a noise-free output with an independent circuit structure by using relays to completely block connectors that are not in use.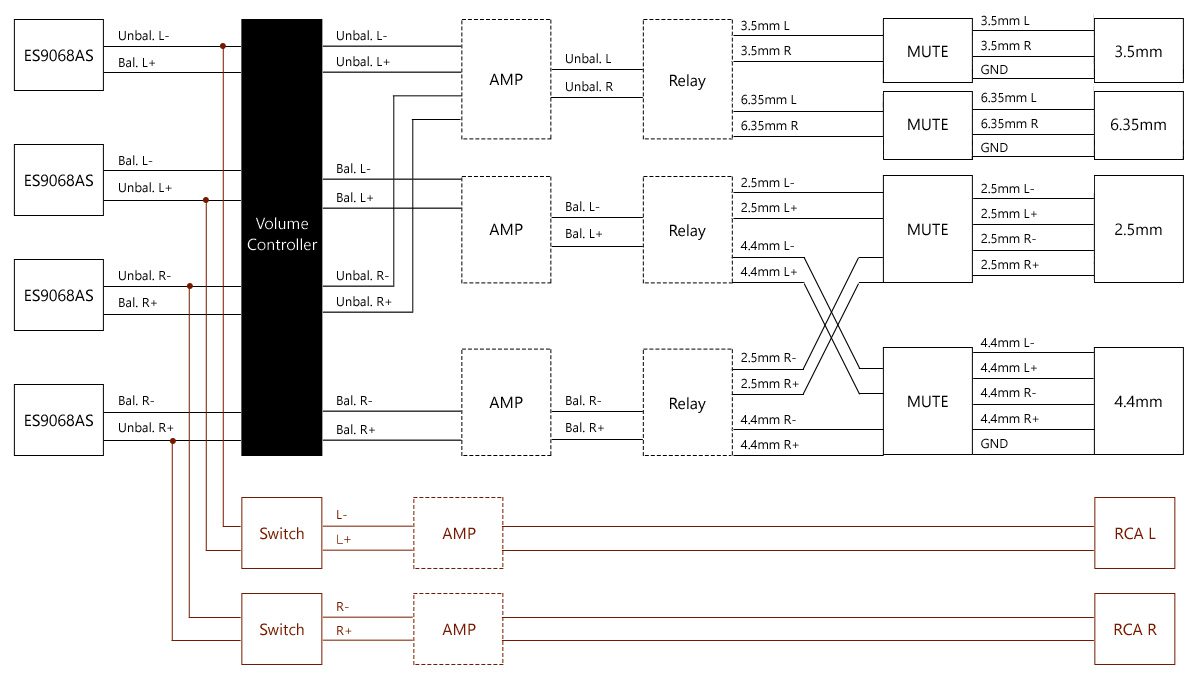 32bit/384kHz, Native DSD512 Support
ACRO CA1000 features premium sound using Astell&Kern's proven technology.
You can enjoy your favorite music to your heart's content with support for native DSD512 and 32bit/384kHz PCM playback.
Bit-to-bit playback is possible up to 32-bit/384kHz PCM and 22.4MHz native DSD, so even the smallest details the artist wanted to express in the music can be heard without distortion.
32-bit bit-to-bit Playback by ACRO CA1000

32-bit Playback by Other Product

Premium Sound Anywhere
ACRO CA1000 features powerful output with various input and output options that can only be found in a stationary headphone amplifier.
A portable amplifier that can operate without an external power source adds utility beyond existing products.
A headphone amp should be able to deliver perfectly noise-free sound for an extended period of time.
The ACRO CA1000 is equipped with an 8,400mAh large-capacity battery to provide clear, distortion-free premium sound without the need for a separate power connection.
In order to solve the problem of relatively reduced playback time due to the small size and powerful output, all power-related parts were examined and the power circuit was redesigned several times. The result is continuous playback for more than 10 hours.
With the Astell&Kern ACRO CA1000's excellent sound reproduction ability, you can hear the full, original sound of your music anywhere.
* MUSIC: FLAC, 16bit, 44.1kHz, Unbalanced, Vol.40, LCD Off, Low Gain
* Playback time may vary depending on user environment.
Astell&Kern Audio Technology Forms the TERATON ALPHA Sound Solution
AK ULTIMATE SOUND SOLUTION, TERATON ALPHA
TERATON ALPHA is AK's ultimate Sound Solution to produce audio playback that is close to the original sound through the audio output interface by use of effective power noise removal, efficient power management and amplification with minimal distortion.
TERATON ALPHA features Astell&Kern's patented technologies, which are the result of tens of thousands of hours of continuous research and development to produce sound close to the original sound the artist and producer intended.
Speaker effect when listening through headphones – Crossfeed
In a headphone environment in which the left and right channels are clearly separated, ear fatigue may increase during prolonged listening.
The moment you turn on Crossfeed, the experience of crisp, but comfortable sound begins.
Crossfeed mixes parts of the original signal from one channel and sends that signal to the opposite channel with a time difference to center the sound image.
Through the use of detailed settings such as Shelf Cutoff, Shelf Gain, and Mixer Level, you can set the level of crossfeed according to your listening preferences.
Wireless Hi-Fi Sound Through BT Sink
The newly introduced BT Sink function connects the CA1000 to an external device via Bluetooth,
similar to connecting a smartphone with a BT speaker.
Music from an external device, such as a smartphone can now be played back in high-quality on the CA1000 using the BT Sink function.

ReplayGain Automatically and Uniformly Adjusts Playback Volume
ReplayGain, which adjusts sound sources with different volumes to an identical level, has been applied. Now, enjoy your own playlists seamlessly through the ReplayGain feature on CA1000.
– ReplayGain supports up to 24bit/192 kHz sound sources.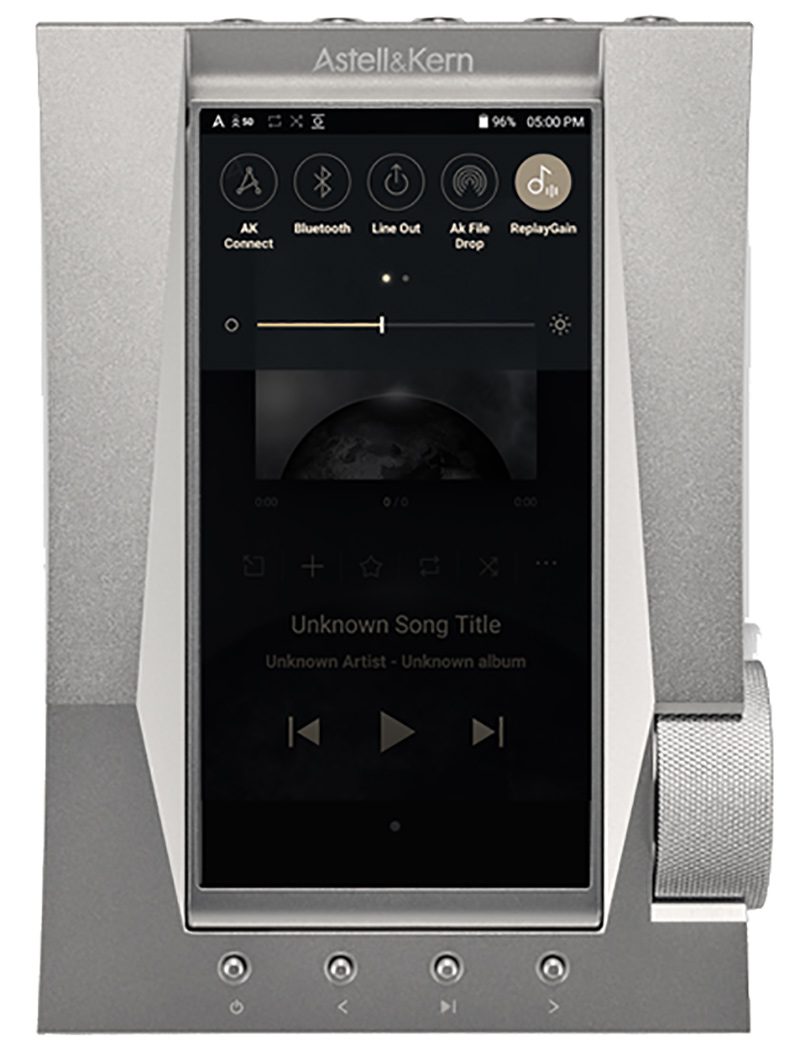 Silver Plating Shield Can
Astell&Kern products apply shield cans so that noise and elec-tromagnetic interference, which occur when the countless parts are in operation, do not affect the audio block.
The CA1000 has taken it a step further by applying highly con-ductive, hyper-pure silver plating on the existing shield cans for perfect shielding that provides excellent audio performance.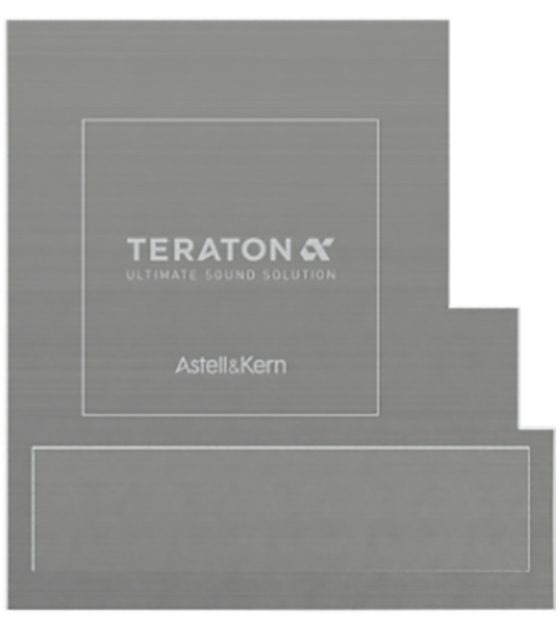 AK File Drop to enjoy wireless transfers
The new AK File Drop function in the CA1000 makes files transfers easier and more convenient.
Using AK File Drop, you can freely transfer files wirelessly through a PC, smartphone, or FTP program located on the same network.
Music file management is now possible with a cableless, wireless solution.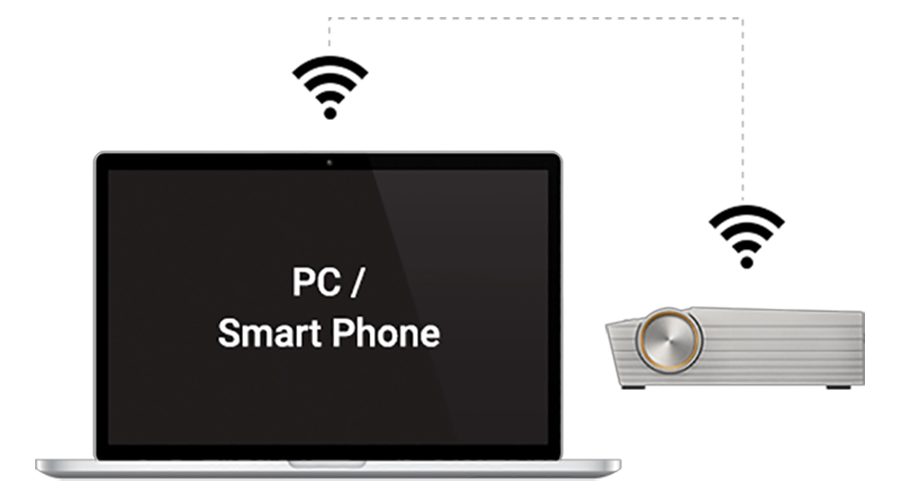 DESIGN
The ACRO CA1000 was designed to be inspired by a powerful rover truck to break through the harsh and dangerous Mars environment.
An exploration truck with strong power to break through meteorites and move forward resembles the CA1000's powerful output and various performances and is reinterpreted using Astell&Kern's existing brand identity.
The aluminum body and wheels produced with CNC precision represent Astell&Kern's cohesive technology, and is hard and delicately finished.
In the ACRO CA1000, Astell&Kern's unique atypical triangle cutting and strong wheel design are merged with both portability and intuitive usability as well as harmonious design.
As a portable AMP, the curved surface and design pattern of the side prevents the product from being pushed by the hand when holding it in one hand.
We wanted to provide not only the special beauty found in Astell&Kern products, but also convenient usability that allows you to feel the emotion of music.
ACRO CA1000 has a tilting display that can be adjusted to an optimal position depending on where it is placed on a desk or table. The display can be freely adjusted up to 60 degrees to suit your environment.
The volume wheel design unique to Astell&Kern is expressed as a metal wheel that may be found on an exploration truck that can pass over any obstacles. It is designed to sensibly and accurately adjust the volume.